August 9, 2007
During the frantic search for the Server 4 Bounce Path Control page, the avid followers of Iris stumbled upon a new IP address:
http://206.16.233.76/
. This address contained the words "Artifact Location" at the top of the web browser.
superelite_30 later found out that we were supposed to find the Artifact Location website from the
StarImage4.jpg
provided to us from Server 4. Taking into consideration what Thomas Sanatos said about Jonas Volman trying to make things more obvious, he typed "
http://theartifactlocation.com
" into his web browser and found success. The
unknown.jpg
image provided to us in Server 4 is that of the Boomerang Nebula--"boomerang" being the password for the Artifact Location website. It is currently presumed that this website is related to Server 5.
A Glyph sits in the background of the image behind the white box where text is to be placed. As time goes by, the stars scattered throughout the website disappear. After some work, those at the "official" IRC channel for ABO (
http://ibo.bungie.org/?irc&q=args
) figured out through very fun methods that the password to be placed in the white box was:
boomerang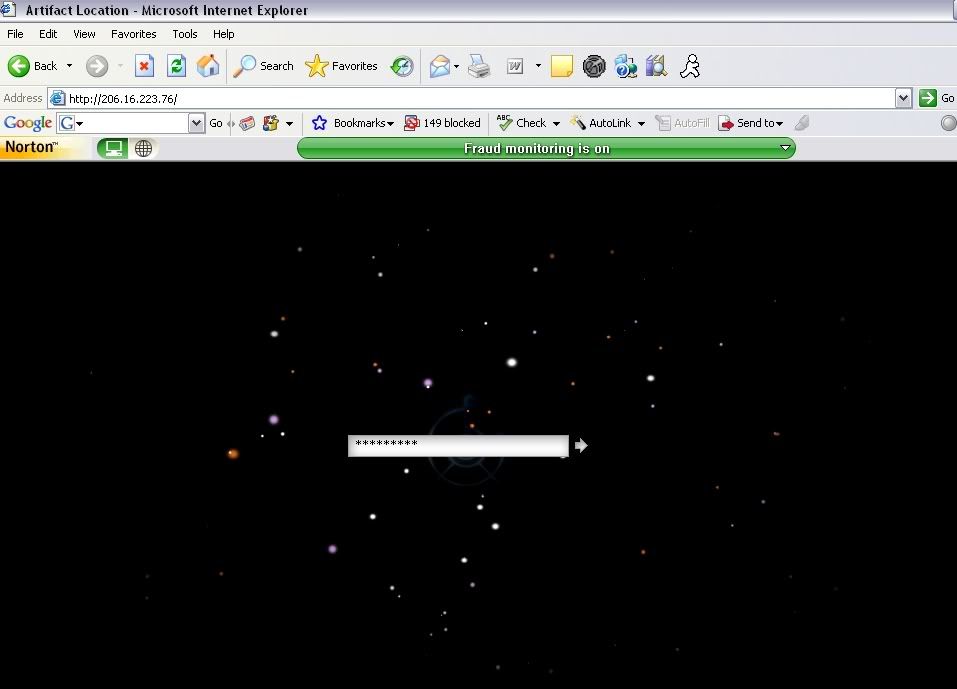 Upon entering the password (boomerang), the white box disappears and is replaced by the following: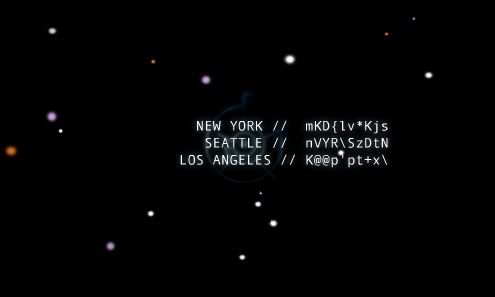 The random bits of text to the right of the city's names are constantly moving, and appear to be set at random (never the same upon refreshing).
August 13, 2007
The Artifact Location site text was updated today. After entering "boomerang" as the password, the below appeared:
August 15, 2007
At 9:00 PM PST, ProfessorHojo05 noticed that the scrolling text on the Artifact Location page had sped up.
August 16, 2007
12:00 AM PST
Avateur noticed that the scrolling text had sped up even more.
8:34 AM PST
thereIwasn't noticed that times had been added to the flash:
9:10 PM PST
The Artifact Location updated, providing coordinates located within the cities. For over an hour, the coordinates posted for New York and Los Angeles were completely wrong. The people we had on the ground were running about Times Square frantically, failing at locating anything. Eventually, The Artifact Location page updated itself with the correct coordinates: