[Site] Server / Episode 5
At 8:15 AM PST on August 16, 2007, Server 5 went from "Unavailable" to "Pending." Users started to panic, unable to find clues as to where the Bounce Path Control page was. Worse was the wait--hours of silence induced anticipation that almost slowed time. According to , an event was to take place in New York at 23:59, Seattle at 21:00, and Los Angeles at 21:00. It was concluded that the Bounce Path Control page would be obtainable around these times.
At 9:10 PM PST, The Artifact Location updated, providing coordinates located within the three cities. ARGers made their way to these coordinates hoping to strike gold. Unfortunately, the coordinates for New York and Los Angeles were wrong; the coordinates for Los Angeles were corrected almost an hour later.
Between 10:08 PM and 10:11 PM PST, Myles from "Grunts 'R' Us" and eccramer from "Unfiction" made their way to the Seattle coordinates. They discovered a projector playing a video against a wall, the web address to the Server 5 Bounce Path Control page contained within. After making some phone calls to Admins of their respective groups, the Bounce Path Control page made its way to the #halo IRC channel.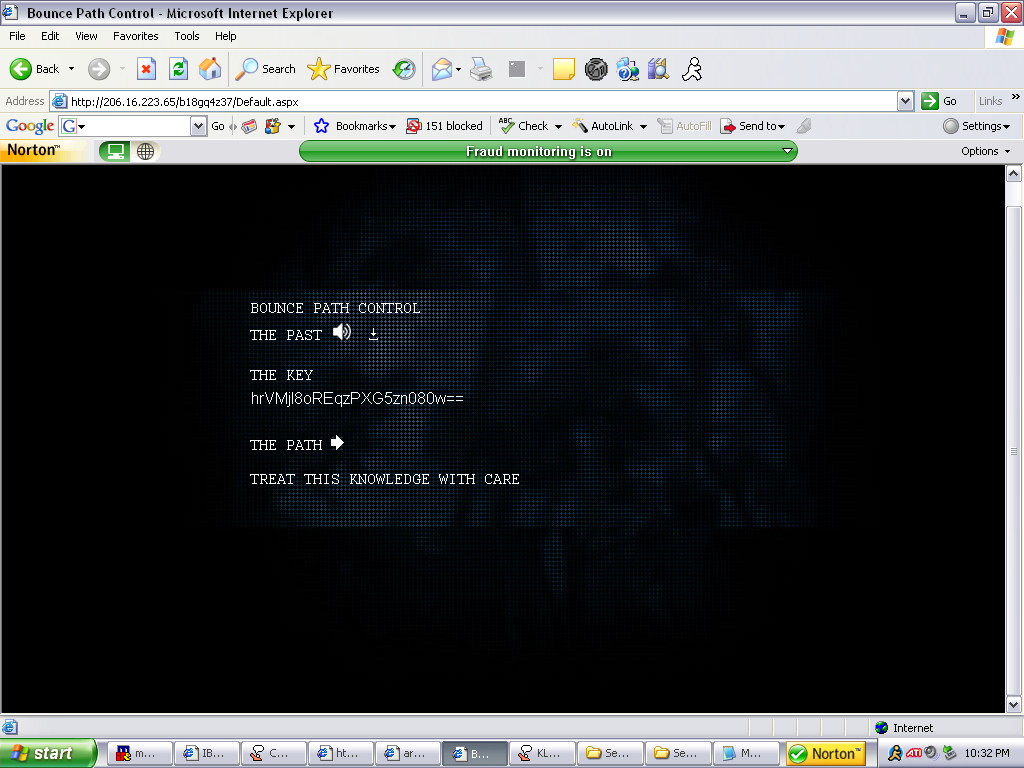 Server5Key.PNG [ 426.86 KiB | Viewed 29371 times ]
By 10:23 PM PST, 100 keys had been entered and Server 5 was unlocked. At 10:30 PM PST, New York's coordinates were finally corrected.
A metallic object similar to the previous Servers is found within the new Server. The light coming from within this artifact glows yellow, unlike its predecessors. The artifact spins if left alone, but when clicked upon it stops spinning and allows you to rotate it. Five icons are scattered about the object--clicking 4 of these will download files to your computer; the fifth makes the machine play a video. Unlike the previous hallways where the artifacts are located, Server 5's was much bigger and brighter.
File comment: Thanks thebruce!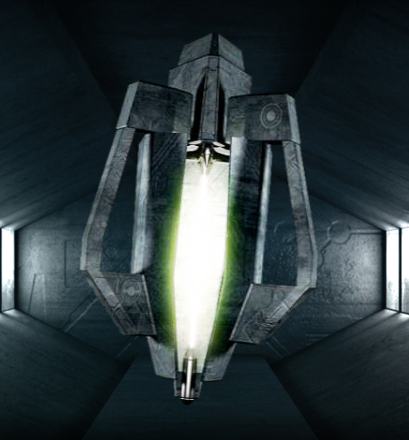 Server_05.jpg [ 116.43 KiB | Viewed 29304 times ]
The audio file that was on the Key and Path page can be found here:
The various files downloaded from Sever / Episode 05 are as follows:
You can get to Server 5 by going to
http://206.16.223.61/X84xE2/flash/web/index.html