---
-->| Valchael (~@St.Alfonzos.Pancake.Breakfast) has joined #ci/abo
=-= Mode #ci/abo +o Valchael by ChanServ
<MrMelons> sorry about that if I confused you
<BlueNinja> same here Mjonir
<Ibeechu> Guys, if your nicks aren't registered, be sure to register them
=-= Avateur was booted from #ci/abo by ChanServ (You are not permitted to be on this channel.)
=-= Kawaiirose was booted from #ci/abo by ChanServ (You are not permitted to be on this channel.)
=-= Cy was booted from #ci/abo by ChanServ (You are not permitted to be on this channel.)
=-= Vocor was booted from #ci/abo by ChanServ (You are not permitted to be on this channel.)
=-= mihirsc1 was booted from #ci/abo by ChanServ (You are not permitted to be on this channel.)
=-= HallwayG was booted from #ci/abo by ChanServ (You are not permitted to be on this channel.)
=-= SpeedySurfer was booted from #ci/abo by ChanServ (You are not permitted to be on this channel.)
=-= Chase was booted from #ci/abo by ChanServ (You are not permitted to be on this channel.)
=-= achewyrock was booted from #ci/abo by ChanServ (You are not permitted to be on this channel.)
=-= warnignshot3 was booted from #ci/abo by ChanServ (You are not permitted to be on this channel.)
=-= LoneFedaykin was booted from #ci/abo by ChanServ (You are not permitted to be on this channel.)
=-= kudo43 was booted from #ci/abo by ChanServ (You are not permitted to be on this channel.)
=-= rbeberwyck was booted from #ci/abo by ChanServ (You are not permitted to be on this channel.)
=-= Median was booted from #ci/abo by ChanServ (You are not permitted to be on this channel.)
=-= BlueNinja was booted from #ci/abo by ChanServ (You are not permitted to be on this channel.)
=-= Jinto was booted from #ci/abo by ChanServ (You are not permitted to be on this channel.)
=-= Johnblaze27 was booted from #ci/abo by ChanServ (You are not permitted to be on this channel.)
=-= Xastabus was booted from #ci/abo by ChanServ (You are not permitted to be on this channel.)
=-= VanHelsing was booted from #ci/abo by ChanServ (You are not permitted to be on this channel.)
=-= AfRo_SaUcE was booted from #ci/abo by ChanServ (You are not permitted to be on this channel.)
=-= blazejam was booted from #ci/abo by ChanServ (You are not permitted to be on this channel.)
=-= Aegis was booted from #ci/abo by ChanServ (You are not permitted to be on this channel.)
=-= MrMelons was booted from #ci/abo by ChanServ (You are not permitted to be on this channel.)
=-= HuntGather98 was booted from #ci/abo by ChanServ (You are not permitted to be on this channel.)
=-= Tural was booted from #ci/abo by ChanServ (You are not permitted to be on this channel.)
=-= Raigns was booted from #ci/abo by ChanServ (You are not permitted to be on this channel.)
=-= Injunfett was booted from #ci/abo by ChanServ (You are not permitted to be on this channel.)
=-= KLind was booted from #ci/abo by ChanServ (You are not permitted to be on this channel.)
=-= CaptainTenneal was booted from #ci/abo by ChanServ (You are not permitted to be on this channel.)
=-= OmegaHunter9 was booted from #ci/abo by ChanServ (You are not permitted to be on this channel.)
=-= Wickedking was booted from #ci/abo by ChanServ (You are not permitted to be on this channel.)
=-= Mariachi was booted from #ci/abo by ChanServ (You are not permitted to be on this channel.)
=-= blahqwerty was booted from #ci/abo by ChanServ (You are not permitted to be on this channel.)
=-= joseph was booted from #ci/abo by ChanServ (You are not permitted to be on this channel.)
=-= churcchh was booted from #ci/abo by ChanServ (You are not permitted to be on this channel.)
=-= DHalo was booted from #ci/abo by ChanServ (You are not permitted to be on this channel.)
=-= phantom12321 was booted from #ci/abo by ChanServ (You are not permitted to be on this channel.)
=-= MeetCrazyFury2 was booted from #ci/abo by ChanServ (You are not permitted to be on this channel.)
=-= j41m3z was booted from #ci/abo by ChanServ (You are not permitted to be on this channel.)
=-= Gigas was booted from #ci/abo by ChanServ (You are not permitted to be on this channel.)
=-= xyno was booted from #ci/abo by ChanServ (You are not permitted to be on this channel.)
=-= MC was booted from #ci/abo by ChanServ (You are not permitted to be on this channel.)
=-= disfrank1212 was booted from #ci/abo by ChanServ (You are not permitted to be on this channel.)
=-= Sk8erdmg was booted from #ci/abo by ChanServ (You are not permitted to be on this channel.)
=-= Quinion was booted from #ci/abo by ChanServ (You are not permitted to be on this channel.)
=-= homer34 was booted from #ci/abo by ChanServ (You are not permitted to be on this channel.)
=-= MIKEAWESOM1 was booted from #ci/abo by ChanServ (You are not permitted to be on this channel.)
=-= PapaStu was booted from #ci/abo by ChanServ (You are not permitted to be on this channel.)
=-= CaiaphasBoT was booted from #ci/abo by ChanServ (You are not permitted to be on this channel.)
=-= mynewname was booted from #ci/abo by ChanServ (You are not permitted to be on this channel.)
=-= Guttersnipe was booted from #ci/abo by ChanServ (You are not permitted to be on this channel.)
=-= caboose117 was booted from #ci/abo by ChanServ (You are not permitted to be on this channel.)
=-= Lichtonatus was booted from #ci/abo by ChanServ (You are not permitted to be on this channel.)
=-= Haygen was booted from #ci/abo by ChanServ (You are not permitted to be on this channel.)
=-= monk13 was booted from #ci/abo by ChanServ (You are not permitted to be on this channel.)
=-= TheLeggett was booted from #ci/abo by ChanServ (You are not permitted to be on this channel.)
=-= APL was booted from #ci/abo by ChanServ (You are not permitted to be on this channel.)
=-= LoveMachines was booted from #ci/abo by ChanServ (You are not permitted to be on this channel.)
=-= Camth was booted from #ci/abo by ChanServ (You are not permitted to be on this channel.)
=-= icysoul556 was booted from #ci/abo by ChanServ (You are not permitted to be on this channel.)
=-= rwalton1129 was booted from #ci/abo by ChanServ (You are not permitted to be on this channel.)
=-= RomanArrow|Wii was booted from #ci/abo by ChanServ (You are not permitted to be on this channel.)
=-= jonh was booted from #ci/abo by ChanServ (You are not permitted to be on this channel.)
=-= Cicucci was booted from #ci/abo by ChanServ (You are not permitted to be on this channel.)
<Lattyware> crap
<Ibeechu> SNAP
<Heliophage> lol
<thebruce> oh wow
<Ibeechu> Unregged
<p_brent> yeas
<Unr3alChi3f> shit
<DarthYodi> WTFFFFFFFFFFFFFFFFFFFFFFFFFFFFFFFFFFFFFFFFFFFFFFFFFFF
<cidhighwind767> Uh...
<KrK> whoa...
<Mjonir> Wow
<Crispy`> oh wow.
<Crispy`> ROFL
<EliteSniper177> woah
<Heliophage> XD
<Unr3alChi3f> holy fucking shit
<Cortana> wow....
<Zero> LOL
<H3rtz> woah
<Zero> scrn cap
<Crispy`> 96 to 32.
<Crispy`> Nice job.
<rewind> gj
<wfgeppetto> what is going on?
<H3rtz> there ya go
<Unr3alChi3f> OWNED
<thebruce> restricted to registered nicks?
<Ibeechu> bruce, yeah
<DarthYodi> who the fuck did that
<Mjonir> Yup
<p_brent> you have to register to be here
<H3rtz> not it
<Apoc> Magick
<Cortana> Well it seems more roomy in here
-->| achewyrock (~chatzilla@Go.Away.Pedos) has joined #ci/abo
=-= Mode #ci/abo +v achewyrock by ChanServ
<Valchael> I pinged out because of the amount of people
<rewind> I was about to say
<wfgeppetto> lol
<Ibeechu> ..
<rewind> avateua
-->| DHalo (~Guest@ARG-SINGULARITYINTERACTIVE-IRC-8BBAF6E1.dhcp.embarqhsd.net) has joined #ci/abo
=-= Mode #ci/abo +v DHalo by ChanServ
<rewind> *whatever
-->| MeetCrazyFury2 (~MeetCrazy@ARG-SINGULARITYINTERACTIVE-IRC-7099849A.carolina.res.rr.com) has joined #ci/abo
=-= Mode #ci/abo +v MeetCrazyFury2 by ChanServ
<Avateur> avatueruradf
-->| mickeymouse1234 (~mlmkm@ARG-SINGULARITYINTERACTIVE-IRC-9E0E567.dyn.optonline.net) has joined #ci/abo
=-= Mode #ci/abo +v mickeymouse1234 by ChanServ
<DHalo> wtf?
<Avateur> DHALO
-->| blazejam (~chatzilla@ARG-SINGULARITYINTERACTIVE-IRC-925C5233.ks.ok.cox.net) has joined #ci/abo
=-= Mode #ci/abo +v blazejam by ChanServ
<Avateur> FTW!
<cidhighwind767> That was ChanServ. I think
-->| HallwayG (~hallway-g@ARG-SINGULARITYINTERACTIVE-IRC-BAA7EC64.hsd1.tn.comcast.net) has joined #ci/abo
<thebruce> haha
=-= Mode #ci/abo +v HallwayG by ChanServ
* Avateur waves like an omg.
<wfgeppetto> apoc? sry
<Ibeechu> Unr3al, i was gonna say to telle veryone to register
-->| Patriot (~nicrotros@ARG-SINGULARITYINTERACTIVE-IRC-DAA0219C.hsd1.ca.comcast.net) has joined #ci/abo
=-= Mode #ci/abo +v Patriot by ChanServ
-->| KLind (~chatzilla@ARG-SINGULARITYINTERACTIVE-IRC-D8F4FA14.sl.wotnoh.sbcglobal.net) has joined #ci/abo
=-= Mode #ci/abo +v KLind by ChanServ
<DHalo> hey everyone
<Crispy`> thebruce: Oh, you're in here! lol.
-->| Kawaiirose (~chatzilla@ARG-SINGULARITYINTERACTIVE-IRC-BD2BF659.clsp.qwest.net) has joined #ci/abo
=-= Mode #ci/abo +v Kawaiirose by ChanServ
-->| Johnblaze27 (~John@ARG-SINGULARITYINTERACTIVE-IRC-17E248A3.se.biz.rr.com) has joined #ci/abo
=-= Mode #ci/abo +v Johnblaze27 by ChanServ
<DarthYodi> yes but someone contrls chanserv
-->| Guttersnipe (~hootinann@ARG-SINGULARITYINTERACTIVE-IRC-E133420B.austin.res.rr.com) has joined #ci/abo
<p_brent> WB
=-= Mode #ci/abo +v Guttersnipe by ChanServ
-->| drawingman818 (~chatzilla@ARG-SINGULARITYINTERACTIVE-IRC-BD18FDA8.nycmny.fios.verizon.net) has joined #ci/abo
<Patriot> Hi
=-= Mode #ci/abo +v drawingman818 by ChanServ
<DHalo> But what just hapened?
<Kroze> Here comes the flood again
-->| monk13 (~chatzilla@87C93751.EC763DCE.1C3ECA92.IP) has joined #ci/abo
=-= Mode #ci/abo +v monk13 by ChanServ
-->| Vocor (~h3nt41.t0@ARG-SINGULARITYINTERACTIVE-IRC-8AF7CE8B.tampabay.res.rr.com) has joined #ci/abo
=-= Mode #ci/abo +v Vocor by ChanServ
<thebruce> yes, quite, crisp


<rewind> Avateur might want to change that
<blazejam> wwhat just happend?
<Mjonir> Arrr... people rejoining ><
<cidhighwind767> That blinded me
<Vocor> there we go
-->| Mariachi (~Mariachi@B83B3791.725F747A.AA38C019.IP) has joined #ci/abo
=-= Mode #ci/abo +v Mariachi by ChanServ
<drawingman818> ...
<DarthYodi> talk about chan kill
<Crispy`> DHalo: All non-regged nicks just got booted.
<Guttersnipe> hello
-->| VanHelsing (~VanHelsin@ARG-SINGULARITYINTERACTIVE-IRC-B18CD5E8.6-150.btcentralplus.com) has joined #ci/abo
<p_brent> their everywhere!!!
=-= Mode #ci/abo +v VanHelsing by ChanServ
<DHalo> ah
<Vocor> ok johnnyblaze sign out and back in
<DHalo> I gotta reg
<Lattyware> oh well
-->| OmegaHunter9 (~Guest@ARG-SINGULARITYINTERACTIVE-IRC-356F9EB2.dyn.embarqhsd.net) has joined #ci/abo
=-= Mode #ci/abo +v OmegaHunter9 by ChanServ
<--| Valchael has left #ci/abo (Parting, sweet sorrow)
<Kroze> Someone set it to only registered users
<Lattyware> it's refilling
<Apoc> Back on topic. a simple server error, get over it
<Patriot> that scared me
<OmegaHunter9> that was annoying
<drawingman818> howdo I reg?
-->| Quinion (~chatzilla@2AAE42EF.D4FBDA55.2341D429.IP) has joined #ci/abo
=-= Mode #ci/abo +v Quinion by ChanServ
<KrK> oh well, only another 50 or so rejoins to go through...


-->| churcchh (~chatzilla@ARG-SINGULARITYINTERACTIVE-IRC-818290.dhcp.embarqhsd.net) has joined #ci/abo
=-= Mode #ci/abo +v churcchh by ChanServ
<Lattyware> and this is one way to ensure active people
<VanHelsing> how do i register my name?
<Crispy`> *cough* unreal
<Johnblaze27> why thats fucked
-->| warningshot3 (~warnignsh@ARG-SINGULARITYINTERACTIVE-IRC-597ED915.tatic.sa.chariot.net.au) has joined #ci/abo
=-= Mode #ci/abo +v warningshot3 by ChanServ
-->| M3_Rokit (~korn.ness@ARG-SINGULARITYINTERACTIVE-IRC-709B113C.hsd1.co.comcast.net) has joined #ci/abo
=-= Mode #ci/abo +v M3_Rokit by ChanServ
<KLind> How do I register?
<OmegaHunter9> i'm back
<Lattyware> the channel was pretty much cleared
<blazejam> g2g guys
<Quinion> how do u regester
-->| Chase (~Chase@ARG-SINGULARITYINTERACTIVE-IRC-A4E0335D.hr.hr.cox.net) has joined #ci/abo
=-= Mode #ci/abo +v Chase by ChanServ
<drawingman818> how do I register?
|<-- blazejam has left irc.arg-irc.net (Quit: ChatZilla 0.9.78.1 [Firefox 2.0.0.6/2007072518])
-->| Valchael (~@St.Alfonzos.Pancake.Breakfast) has joined #ci/abo
=-= Mode #ci/abo +o Valchael by ChanServ
<Ibeechu> Hold on, guys
<Crispy`> Went from 98 to 32.
-->| MC (~jimswg@ARG-SINGULARITYINTERACTIVE-IRC-BCA926AA.hsd1.mn.comcast.net) has joined #ci/abo
=-= Mode #ci/abo +v MC by ChanServ
<Apoc> for registering go to #si
<DHalo> http://www.afterdawn.com/faq/software_p ... v_mirc.cfm
<M3_Rokit> Link
<Chase> i have an account on abo, why did i get kicked
<Vocor> ./msg nickserv register pass email
<churcchh> w......t.......f
-->| j41m3z (~chatzilla@ARG-SINGULARITYINTERACTIVE-IRC-3B12898D.dsl.irvnca.pacbell.net) has joined #ci/abo
=-= Mode #ci/abo +v j41m3z by ChanServ
<KrK> To register: /msg nickserv register password emailaddress
<cidhighwind767> ./msg nickserv register password emailaddress
-->| Gigas (mailto:Mataxia@ARG-SINGULARITYINTERACTI ... omcast.net) has joined #ci/abo
=-= Mode #ci/abo +v Gigas by ChanServ
<Zero> /msg nickserv identify PASSWORD email
<M3_Rokit> Link please
<Ibeechu> /msg nickserv register <password> <email>
<Mjonir> /ns REGISTER REGISTER password email
<thebruce> what was that command again?
<Apoc> STOP, GET ON TOPIC
<Mjonir> Ups, one time, not two xD
|<-- Tural has left irc.arg-irc.net (Quit: Leaving)
-->| Cy (~Cy@ARG-SINGULARITYINTERACTIVE-IRC-1026E3BA.nfcca.dsl-w.verizon.net) has joined #ci/abo
=-= Mode #ci/abo +v Cy by ChanServ
-->| caboose117 (~chatzilla@ARG-SINGULARITYINTERACTIVE-IRC-2F463D03.hsd1.fl.comcast.net) has joined #ci/abo
=-= Mode #ci/abo +v caboose117 by ChanServ
|<-- KrK has left irc.arg-irc.net (Quit: ERROR: Stupidity Overload, Reflash your brain! Online for 6hrs 10mins 37secs)
-->| Phyltre (~Phyltre@ARG-SINGULARITYINTERACTIVE-IRC-33267182.sc.res.rr.com) has joined #ci/abo
=-= Mode #ci/abo +v Phyltre by ChanServ
<p_brent> and hotmail dont work
-->| DRO4Phone (~DRO4LIFE@ARG-SINGULARITYINTERACTIVE-IRC-21BF3AB.tmodns.net) has joined #ci/abo
=-= Mode #ci/abo +v DRO4Phone by ChanServ
=-= Mode #ci/abo +o M3_Rokit by Apoc
<Ibeechu> Maybe setting +R wasn't such a hot idea
<Mjonir> Yup
-->| Tural (~Tural@ARG-SINGULARITYINTERACTIVE-IRC-E6670480.neb.res.rr.com) has joined #ci/abo
=-= Mode #ci/abo +v Tural by ChanServ
-->| KrK (~KrK@ARG-SINGULARITYINTERACTIVE-IRC-873A33E.glfd.cable.ntl.com) has joined #ci/abo
=-= Mode #ci/abo +v KrK by ChanServ
<Kroze> It really wasn't
<Mjonir> You should get it back on xD
-->| CaiaphasBoT (~Miranda@ARG-SINGULARITYINTERACTIVE-IRC-5A11A194.sw.biz.rr.com) has joined #ci/abo
=-= Mode #ci/abo +v CaiaphasBoT by ChanServ
<Cortana> Whats the addres of that damn forrunner site
<Mjonir> At least only interessted guys would still be it
<drawingman818> what's the password for?
<Mjonir> in*
<KrK> gah that was the wrong thing to click on
-->| mihirsc1 (~chatzilla@ARG-SINGULARITYINTERACTIVE-IRC-CBA615E7.wsc.edu) has joined #ci/abo
=-= Mode #ci/abo +v mihirsc1 by ChanServ
=-= Mode #ci/abo +h Ibeechu by Apoc
=-= Mode #ci/abo -o Ibeechu by Apoc
<Heliophage> theartifatlocation.com, Cortana?
<Guttersnipe> forerunner site cortana?
<Cortana> not that one
<Phyltre> How long have we been pending?
<Heliophage> *theartifactlocation
-->| AfRo_SaUcE (~chatzilla@ARG-SINGULARITYINTERACTIVE-IRC-A2C26DAC.satx.res.rr.com) has joined #ci/abo
=-= Mode #ci/abo +v AfRo_SaUcE by ChanServ
<Patriot> new numbers on artifact location page
<Mjonir> People only there to stole BPC adresse won't spend time to register...
<Patriot> or is that old
<Vocor> oh?
-->| Raigns (~chatzilla@ARG-SINGULARITYINTERACTIVE-IRC-D1F74236.pe.net.cable.rogers.com) has joined #ci/abo
=-= Mode #ci/abo +v Raigns by ChanServ
<Vocor> times are old
<Mjonir> ARG players will
<cidhighwind767> If it's the time its old
<Patriot> 23:59, 21:00, 21:00
<--| Gigas has left #ci/abo
<H3rtz> the date is old
<Chase> old
-->| mynewname (~chatzilla@ARG-SINGULARITYINTERACTIVE-IRC-44DC1DC1.hsd1.fl.comcast.net) has joined #ci/abo
|<-- `tilde has left irc.arg-irc.net (Quit: Gah! The lid fell on the keyboard and somehow magically typed this!)
=-= Mode #ci/abo +v mynewname by ChanServ
-->| CaptainTenneal (~New001@ARG-SINGULARITYINTERACTIVE-IRC-CB18FAAB.midco.net) has joined #ci/abo
=-= Mode #ci/abo +v CaptainTenneal by ChanServ
<cidhighwind767> Old then
-->| BlueNinja (~kennethde@ARG-SINGULARITYINTERACTIVE-IRC-50B875AB.access.telenet.be) has joined #ci/abo
-->| HuntGather98 (~HuntGathe@ARG-SINGULARITYINTERACTIVE-IRC-7099849A.carolina.res.rr.com) has joined #ci/abo
=-= Mode #ci/abo +v BlueNinja by ChanServ
=-= Mode #ci/abo +v HuntGather98 by ChanServ
<Guttersnipe> goddamn old



Attachments: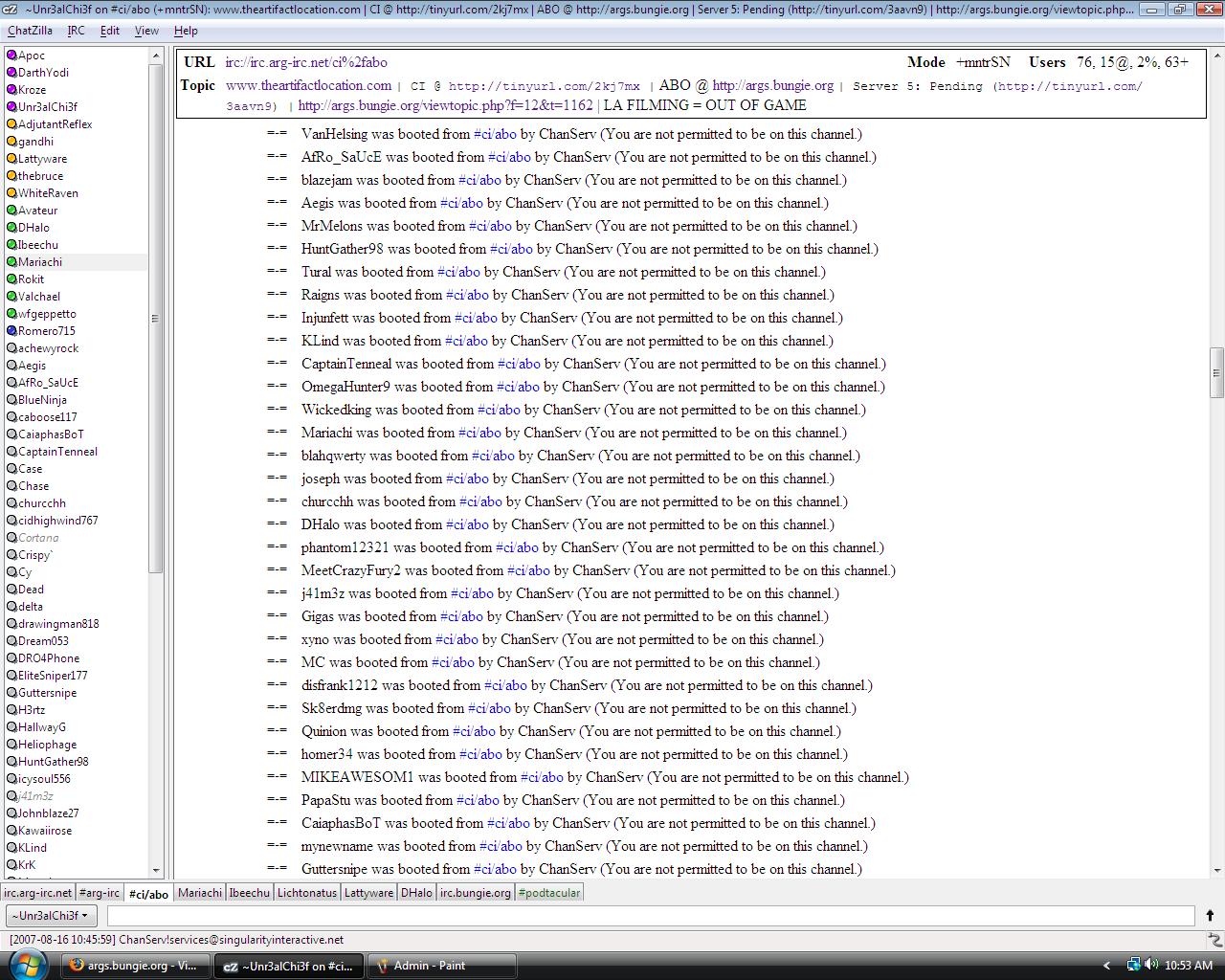 Ownage.jpg [ 300.91 KiB | Viewed 6231 times ]